The public transport infrastructure consists of an intensely used integrated transport system of Prague Metro (its length is 59 km with 57 stations in total), Prague Tram System (including the "nostalgic tram" no. 91), buses, the Petřín funicular to Petřín Hill, and six ferrit. Prague has one of the highest rates of public transport usage in the world with 1.2 billion passenger journeys per annum.
Airport
Welcome to Václav Havel Airport Prague. This airport handles flights of most European carriers and also some overseas flights. It is located 30-45 minutes by car from the centre of Prague. There is a good connection between the airport and city centre by public transport buses and taxis
Unfortunately there is no subway or train connection to the city from the airport. You should buy a ticket before travelling and these can be found at the arrival hall, at ticket machines or at the newsagents (if arriving late and all shops are closed buy a ticket from the driver but large banknotes are not accepted).
Public Transport
Prague has a very sophisticated subway, tram and bus transport system. The Prague underground is quite new and efficient. At peak times, trains run every 2 or 3 minutes, and during off-peak hours at least every 8-10 minutes.
You can find more information about Prague public transport on the web pages http://www.dpp.cz/en/
Short-term passes (unlimited travel within ticket validity)
Most visitors find travel passes cost effective and hassle free. If you use public transport more than a few times a day, definitely go for one. Also 3 and 5 day passes allow free transport for a child aged between 6 and 14 (inclusive).
For more information about Prague Public transport visit Fare pricelist | Prague Public Transit Company, joint-stock company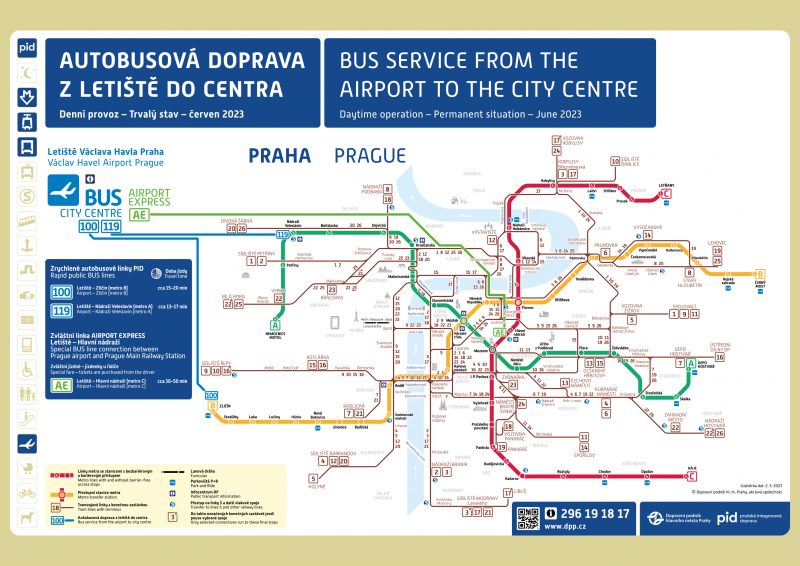 Taxi service
In the city centre, taxis are easy to take from the street but we strongly recommend you use hotel taxis or to call a taxi by phone through the radio taxi service.