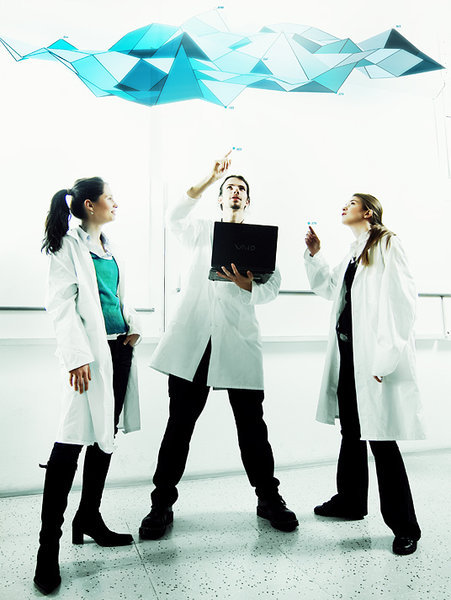 Programme characteristics
Cybernetics and robotics (KyR) is a selective, demanding and attractive programme for talented, interested and hardworking students. It aims to develop creativity, critical and structured thinking and flexibility in our students, as well as to promote their independence. At the same time, we require our students to be able to cooperate as a team and to embrace the philosphy of life-long learning throughout their whole career. While preparing this study programme, we took into consideration the guidelines of international professional associations IFAC and IEEE and also inspired ourselves by the best of similar courses at world's prestigious universities, from which will emerge the colleagues and competitors of our graduates.
Science and research
Our programme is based on world renowned personalities of both academic and industrial sphere, who not only prepared the course itself, but will also be teaching. With their help and guidance, our students can take up courses at renowned universities abroad. Our teaching is also closely linked with with the latest research of international level. Our students are not only taught the latest technologies, they are also trained to form new technologies themselves - technologies, which do not yet exist and which cannot even be predicted at this stage. Students can be directly involved in the research, which develops their knowledge and skills and also brings them extra income.
Goals
Students of cybernetics and robotics will gain profound knowledge of engineering principles based on mathematics, physics, informatics, systems, robotics, cyber and electrical sciences and will develop their knowledge further by creative work in laboratories and on various projects. Students are able to influence their study plans and adapt them according to their own interests, goals and abilities. Complexity and flexibility of the course, with it´s emphasis on fundamentals, interdisciplinary approaches, creativity, critical thinking and cooperation skills will be crucial in the career of our graduates and will bring them a significant advantage over their competitors. The programme is designed to prepare our graduates for the work of an engineer of the 21st century, who is flexible to switch between tasks, teams, companies and even fields of expertise.
Graduates
Graduates of the Cybernetics and Robotics course not only easily find employment, but they are often able to freely choose themselves from offers of renowned hi-tech companies or establish their own businesses. Because their profile is not limited to the specific needs of today's companies, our graduates can face the challenges of the future, of which we have no idea today. The programme prepares students not only for their first job, but also for their fifth, tenth and even for the last job of their career, sometime between 2060-70. Studying Cybernetics and Robotics provides good foundation skills of wider application even for those, who will ultimately take up careers in different fields than they originally intended.
We offer our students
excellent and enthusiastic teachers – strong personalities with academic or  industrial experience from abroad - the real stars of their field

involvement in high-level research teams of European or world level

the opportunity to earn extra money by working on industrial and research projects

computer lab equipped with a sufficient number of new workstations

richly equipped laboratories with modern instruments and experiments

the necessary software freely availeable aslo for home use

complete Wi-Fi coverage with support for the work on personal laptops and tablets

a modern library with a non-stop reading room in a beautiful building on campus

international textbooks covering our course - for some subject we register up to a hundred of english textbooks in the library

necessary information resources, digital libraries and e-books from around the world

database of the research results of our university with a clear assessment of departments and teachers - useful when selecting fields of interest, subjects of study and also teachers

free opportunity to improve your english - essential for studying Cybernetics and Robotics

access to diploma, bachelor and other theses of our past students - your predecessors

the opportunity to influence our teaching via anonymous survey

catch-up courses in mathematics, physics, programming and also a do-it-yourself tutoring prior to the beginning of our course

studying in Prague - a cultural, social and entertainment center